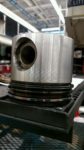 William Snyder
We increased overall fleet average fuel mileage by 6%. We saw a significant reduction in soot in our oil samples allowing us to extend our oil drain interval from 6k to 12k.
I have included a pic of a recent teardown showing how clean the engine is after 350k of transit use and 12k oil drain interval. All the added benefits far out weigh the added cost of around 3 cents per gallon.
Don Licht
Used in 02 ford 7.3 now in 2015 6.7 diesel. Used for over 150,000 miles a lot of Montana winter driving and not one fuel problem. We used it as directed and recommend it. Worth the money. Our experience is it is an excellent product.
Lane
Tried several types of additives and from what I've found this additive worked best for starting as well as most complete fuel burn noticed mostly at idle.
Robin Kelley
Great stuff 8oz goes in every tank full !!!

Don Wheeler
This did prevent my fuel from gelling, but it also made my MPG worse. Winter fuel itself makes your MPG bad, then add this & it made my MPG even worse. In order to gain back some MPG, id have to double the dose. No thanks. No need to use 2x the amount, or add Diesel Kleen to the mix & pay more. I'll just use another brand anti gel fuel additive in the winter, that doesnt make my MPG worse.